Wendy Waller is a highly skilled, multi-stylistic singer/songwriter and voice teacher. The roots of her style reflect the vast landscape of American music: Jazz, country, R&B, Musical Theater, pop, soul, as well as Classical. Not only does she sing and teach all of these styles, but she integrates them into her well crafted bluesy adult contemporary songs. Her passion and creative spirit prevail in her music, performances and teaching.
EXCLUSIVE: Wendy in Concert Sat. Oct. 21st
Wendy is playing live with her band:
Percussion: Michaelle Goerlitz
Electric Bass: Rich Girard
Guitar: Scott Sorkin
Show starts at 6PM but doors will be opening at 5:30PM.
Dala's Nest, 371 O'Connor St, Menlo Park, CA 94025.
And in case of bad weather it will be moved indoors.
RSVP directly by text message at 650-216-9138 or by email wendy@wendywaller.com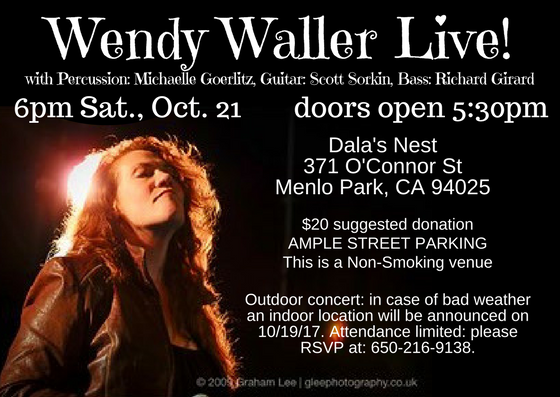 Wendy and Her Fine Band perform a summer concert at Jack London Square in Oakland, CA.  The name of the song:  "You Got To Be Runnin' Song written by Wendy Waller/ Hershel Yatovitz from Wendy's Beauty Queen CD. Video by R.J. DeCristoforo.
Wendy and Her Fine Band in concert at Theatre On San Pedro Square, San Jose, CA. Performing her original song "Folding" from Wendy's CD; Traces Of Grace.  Video by R.J. DeCristoforo.