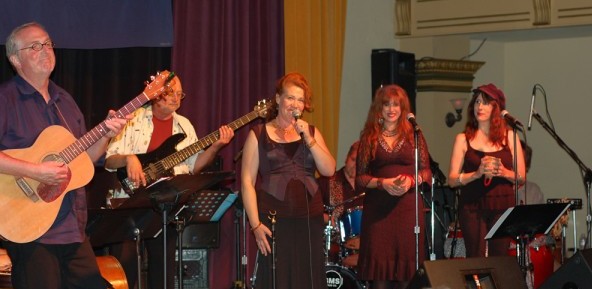 Wendy Waller and Her Fine Band
San Francisco Bay Area-based band for hire!
Wendy and her band have been performing at weddings, corporate events, and concert series to the delight of event planners and audiences alike.
Consider the extraordinary when planning your next event. Consider Wendy Waller and Her Fine Band and treat your guests to a wonderful musical experience they won't soon forget.
Wendy's band offers a repertoire of classic covers suited to your special occasion. Combine Wendy's original songs, contemporary classics and jazz standards with some spicy new arrangements to keep the audience on their toes and dancing.
Acoustic or electric dance sets and concert formats. Click to see the song lists.
Offering a solution for all type of events:
• Winery events
• Corporate events
• Conventions
• Wedding receptions
• Dinner dances
• Cocktail parties
• Gallery openings
• Festivals
• Concerts
Any combination is possible… from a solo instrument to an 8-piece band, including anything and everything in between.
Whatever your event, we play it the way you want it.
We work with you to make your event a success!
add a video
"On a day that involved one's whole heart and soul it is appropriate that one's music choices would reflect that. "Wendy Waller and Her Fine Band" did just that for our wedding! Heart and Soul!"
-Bridgett and Joel Kingston, Woodside, CA
"Wendy Waller and Her Fine Band were the perfect musical experience for our wedding! Wendy collaborated with us to devise a list of songs that helped us create a magical evening! Her band is fun, personable and very professional. We highly recommend Wendy's band for any wedding or celebratory occasion."
-Alisa Krinsy & Paul McKenna, Redwood City, CA
Read more testimonials
 Contact Wendy & her band or Call today 650-216-9138