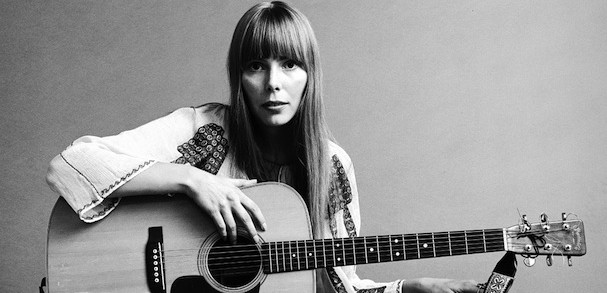 I can't quite remember how old I was nine or ten (1969 or 1970) but I do remember we were in Bullock's department store in Los Angeles and my sister was super excited about a record album and was asking mom if she could buy it. I remember she said something like… "Please mom you'll really like her. She's really good. She doesn't even wear make-up!"
The album had a beautiful painting of a blonde lady holding a flower with a cloudy sunset behind her. That was my introduction to Joni Mitchell. The album was "Clouds". Mitchell is probably the most influential songwriter of the late 20th century. She is a true creative genius. She has always had her own vision of the production of her art despite what the music industry dictated and she has maintained her standards throughout her career. Very few successful commercial artists have been able to do what she has done. This singer/songwriter is certainly one of many who have been inspired by her work. Her music transcends generations! So here's to Joni and her incredible talent, beauty and artistic freedom.
Joni Mitchell was born Roberta Joan Anderson on November 7, 1943, in Fort Macleod, Canada.
Mitchell's artistic contribution has been honored many times. Joni has been inducted to the  Canadian Music Hall Of Fame and the Rock And Roll Hall of Fame. Billboard gave her their "Century Award" in 1995 and in 2002 she was awarded a Lifetime Achievement Grammy.
Joni has won seven more Grammy Awards since then in several categories including Pop. Joni was named best female guitarist of all time by Rolling Stone magazine. Mitchell has a very distinctive guitar style and uses a panoply of alternate tunings. This makes it very difficult to replicate her sound or draw up accurate chord charts for her songs.
Joni had polio as a child and due to complications from the disease cannot play a wide body acoustic guitar because of the pressure it puts on her back and shoulder. Joni plays guitar, piano, oboe, and autoharp.
Joni moved to the United States in the mid 1960s and in 1968 she recorded her first album. "Joni Mitchell." The album was produced by David Crosby.
Joni Mitchell is responsible for the hits "Both Sides Now" and "Big Yellow Taxi" and is looked upon by her peers as folk royalty.
"Big Yellow Taxi." Live 1970 performance. Watch Joni sing "Both Sides Now" and "Circle Game" on the TV show "The Way It Is." From 1968.
Joni was invited to play at Woodstock but her manager declined because she was scheduled to make her national television debut on "The Dick Cavett Show." He saw how bad the traffic was and felt that she wouldn't make it back in time. As a result, she wrote the classic song "Woodstock" which became a huge hit for Crosby Stills Nash & Young, who did appear at the festival. Here is a video of Joni singing "Woodstock" live in 1970. It's stunning.
 Joni was at one time romantically involved with Graham Nash. In fact, Nash wrote the song "Our House" about their relationship. Check out this video of Graham Nash in playing "Our House" with Crosby, Stills & Young in 1974. Led Zeppelin`song "Going to California" is a tribute to Joni Mitchell.