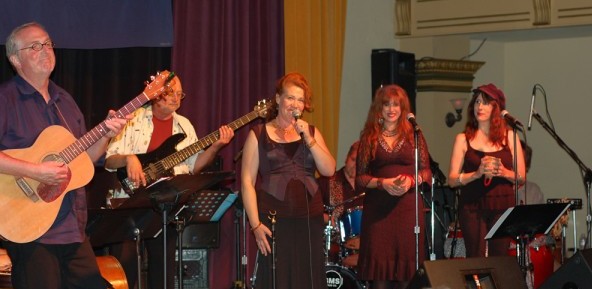 Wendy and her band have been performing at weddings, corporate events, and concert series to the delight of event planners and audiences alike.
Musical Theatre, Jazz, R&B, Country, Soul, Classical, Singer/song writer. You name it Wendy Waller has sung it. Whether on the stage, band stand, or in the studio, Wendy is well versed in multiple singing styles. Her professional experience includes: managing her own highly creative band, performing both original music as well as soulful blues, jazz and Americana. Wendy's professional singing career, vocal instruction and coaching, reflects her vast eclectic musical background. She has performed several leading roles in musical theater productions, and worked as a freelance vocalist in Musical Theatre, Jazz, Pop, Rock, R&B, Blues and Country, Big Band. She has two albums (Traces of Grace and Beauty Queen) to her credit and has done back up on several cd's including Chris Isaaks "Speak Of The Devil." Wendy has taught  group clinics, privately and ongoing classes at U.C. Berkeley, Foothill Junior College, San Jose State University, the Community School of Music and Art (Mountain View) and her 2 studios in Redwood city and West Valley Music.
Wendy Waller and Her Fine Band, San Francisco Bay Area-based band for hire!
Whatever your event, we play it the way you want it.
We work with you to make your event a success!
Book Wendy & Her Fine Band or Call today 650-216-9138